Welcome to our trailer section. We sell new and used trailers. We are also take trade-ins on new trailers. Maybe you aren't in the need of a new trailer, we also offer a full line of trailer repair. Our services include replacement of parts, wiring, full hub, bearing, axle, brake service, new tires, and lubrication, or come down and see if there is something else we can help you with.
Wells-Cargo is re-defining the the industry that they created. In 1954 they created the first enclosed cargo trailer for general use. Today they have redefined how they make trailers again. First ,the best built is still the best WELLS-CARGO top of the line, Second, ROAD FORCE, lots of features, economically priced and third, FAST TRAC, entry level but not cheap built, radial tires, drop axles, aero dynamic vee-front, all features found on more expensive trailers. Wells Cargo can build standard and they have the on staff engineers to configure and engineer a custom, one off trailer to suit your personal, or professional needs, including but not limited to Concession Trailers, Mobile Office Trailers, Convertible trailers ( the MPT). Motor cycle, Landscape, the possibilities are almost limitless. Come see us for a quote on your next trailer, or visit www.wellscargo.com for more details
Whatever the job. Wherever you go. Whenever duty calls. A Road Force cargo trailer has the muscle to move! Designed and built by WELLS CARGO, the company that pioneered the cargo trailer industry over 55 years ago, the feature-rich Road Force delivers a whole new level of value. From the rugged tubular steel main rails to the LED tail lights, the Road Force is no stranger to quality. So for the price of an ordinary trailer, you can step up to the quality and value of the extraordinary Road Force.
• Choice of: Radius Front/Radius Roof with TPO Silver Cap
or V-Front/Flat Roof with Cast Aluminum
Rear Corner Caps
• 12V Dome Lights (2) with Wall Switch
• 24" ATP Stoneguard
• Entire Chassis Undercoated
• Torflex Torsion Suspension with E-Z Lube Hubs
• 15" Radial Tires with Silver Spoke Wheels
• Smooth Aluminum Jeep Fenders
• 5.2 mm Lauan Interior Sidewall Liner
• 3/4" Plywood Floor (Undercoated & Gray Painted Topcoat)
• One-Piece Aluminum Roof
• .030 Prefinished Aluminum Exterior (12 colors)
• .080 Aluminum Roof Cove/Drip Rail (Radius Roof models only)
• Silver Frost Rear Accents (Cornerposts & Header)
• LED Oval Tail Lights
• Swing Down Rear Stabilizer Jacks
• Improved wire connections & secure routing
(reduces electrical shorts)
ROAD FORCE 6 X 12 SINGLE AXLE

8.5 X 20 FOOT VEE-NOSE ROAD FORCE (MDL # RF85X202)

The Wells-Cargo Mini-Wagon ( Mdl # MW6)
Is the perfect companion for weekend road trips or daily small business hauling needs. It's just 4' wide and 6' long, but don't let the small size fool you. It has all the same tough construction you'll find in our bigger commercial grade trailers. Designed to fit comfortably behind today's popular Minivans and SUV's, the Mini Wagon's compact size and low profile deliver unparalleled towability.


Starting @ $ 2,5000.00
Versatile doesn't begin to describe the stylish MPT series
from Wells Cargo. It's like a Swiss ArmyTM knife on wheels.
Pop the top. Drop the ramp. Unfasten a few clamps and
remove the roof entirely. Just imagine the possibilities.
Now the MPT won't fit in your pocket, but it will fit in
your garage with plenty of room to spare. The MPT's
lightweight all aluminum frame design, extra-low profile
and great rearview visibility make towing a pleasure
behind your SUV. Plus, adding the optional side graphics
package guarantees a jealous neighbor.
With 2 sizes available and some optional equipment this can be a one trailer does all for the average suburban home owner.

.....
MPT461--- 4 FOOT WIDE X 6 FOOT LONG ..... STARTING AT $ 2659.00
OR
MPT581--- 5 FOOT WIDE X 8 FOOT LONG.....STARTING AT $ 3850.00
This one trailer can and will take the place of several trailers in your yard,
haul the mulch, haul the mower, haul the kids stuff to college, haul the new applicances, haul the motorcycles, haul the 4 wheelers, haul the stuff to the beach, haul the kids stuff back from college

STANDARD FEATURES:
• All Aluminum Frame
• Torflex® Rubber Torsion Axles with EZ Lube Hubs
• 13" Radial Tires & 5-Bolt Silver Spoke Wheels
• Aluminum Fenders
• 3/4" Pressure-Treated Plywood Floor
• Laminated Aluminum Sidewall Panels (12 colors)
• Removable One-Piece High Impact, Thermo-Polymer Roof
with Keyed Lock & Hinged Tip-Up Front
• LED Exterior Lighting includes Wells Cargo Exclusive Safety
Package
• SAE Truck/Trailer Color Coded Wire
• 12 Volt Trailer End Connector (4-way plug)
• 2" Positive Lock Ball Coupler
• One-Piece Removable Drawbar
• D.O.T. Compliant Safety Chains with Hooks

The Aluminum Framed Multi- Purpose Trailer
When a local branch of the Commonwealth 's government needed a couple of "Custom-built" trailers who did they call on to get the job done right the first time ? Wells-Cargo & Mountain Valley Truck & Trailer
Some of the "Custom Options"
Added

Custom built cabinets
Swing out Halogen light
Flush mount E-Trac
Outside Halogen light boxes
Sliding Windows
120 volt Flourescent lighting
Generator
50 amp 120 volt electric
12 volt powered roof vent
Telescopic Light poles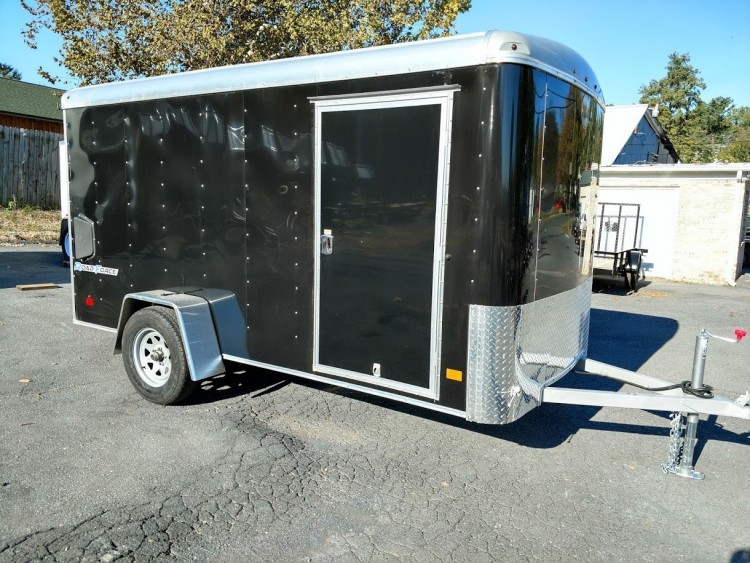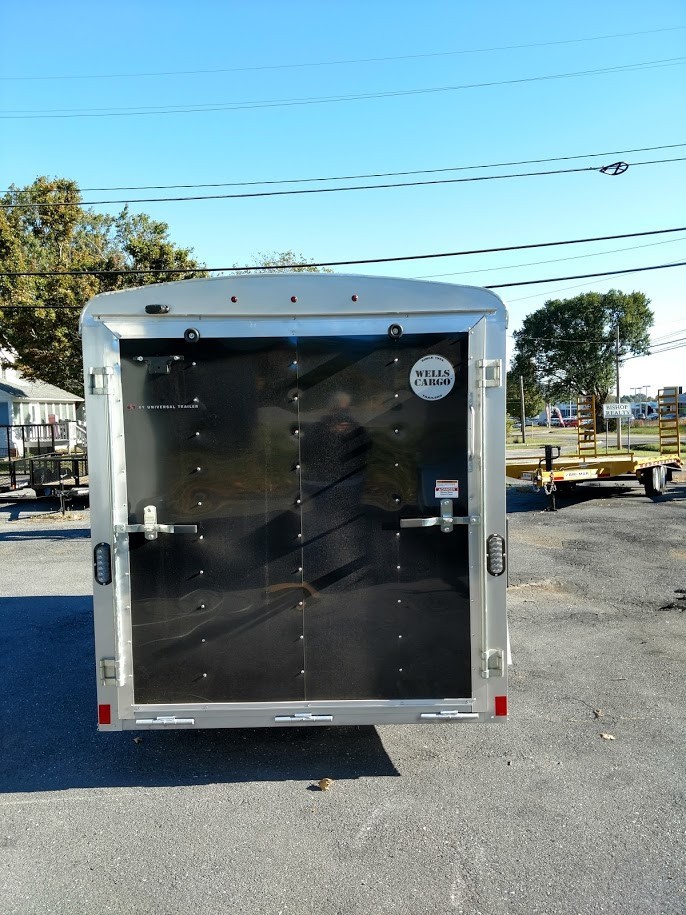 NEW!!

6X12 ROADFORCE
SIDE DOOR & RAMP DOOR
TORFLEX AXLE, ROUND FRONT, ROUND ROOF & MORE

NEW!! 6X10 FAST TRAC SIDE DOOR & RAMP DOOR V-NOSE FRONT
SOLD !!
7X14 WITH REAR BARN DOORS & SIDE DOOR, TANDEM AXLE GVWT 7,000#
7X16 FASTTRAC SIDE & RAMP DOORS, TANDEM AXLE
SOLD!!
5X8 WHITE FASTRAC SINGLE AXLE W/REAR BARN DOORS
SOLD!!
NEW!!!
COMING SOON !!!
CARGO EXPRESS ​
TRAILERS ​